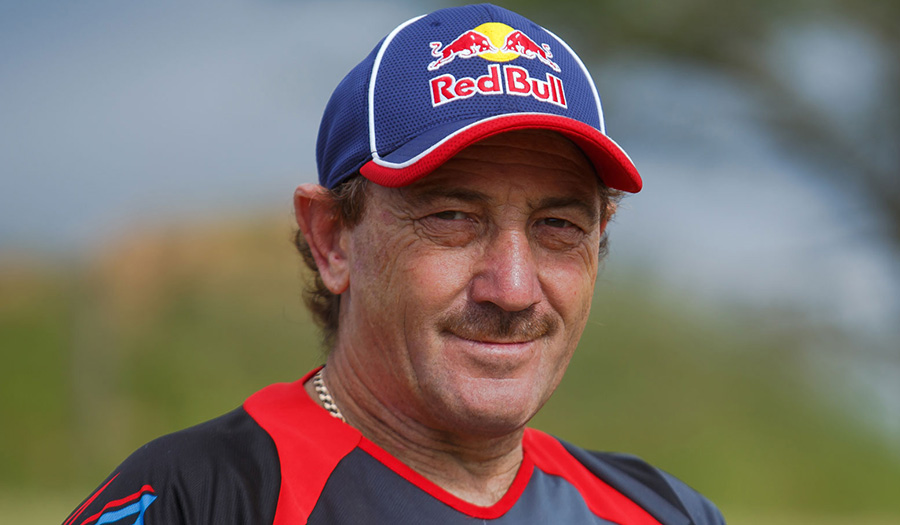 ALFIE COX
Alfie was born in South Africa. He was awarded his Springbok colour in 1988 and was awarded the MSA Lifetime Achievement award during 2002.
He has won the Roof of Africa Rally in Lesotho a staggering 9 times and has been a multiple South African enduro and offroad champion while winning races across the Globe from 1997 and completing numerous Dakar Rally's with a multitude of stage wins.
A four time I.S.D.E Gold medalist in Australia, USA, Poland and Italy and a Trans Namib Desert Race Winner while also winning his class in the Baja 1000 and 500 races in Mexico.
Alfie left school at 16 to follow his dream of becoming a motorcycle mechanic. His boss, John Smith encouraged him to sell his 50cc commuter bike to fund an entry-level motocross racing machine.
Now, some thirty years down the track he owns his own dealership and has just about lost count of the number of titles he has won. Over the last few years his focuses is on his KTM dealership and putting energy into managing his racing team which is working towards developing youngsters.
Alfie also dedicates his time to the Wings for Life Project which is a not-for-profit spinal cord research foundation. Their mission is to find a cure for spinal cord injury and fund world-class scientific research and clinical trials around the globe aimed at healing the injured spinal cord.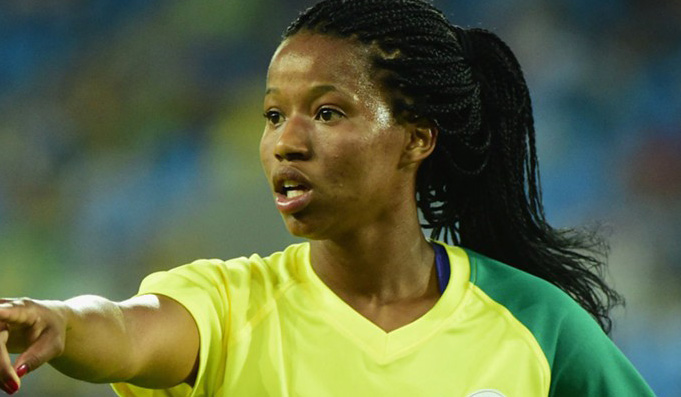 JERMAINE SEOPOSENWE
Jermaine Seoposenwe is a South African football forward. She is a member of the South African national team
Jermaine competed in the 2016 Olympic Games for South Africa , starting in all three matches against Sweden, China and Brazil. Jermaine scored the game-winning goal to secure South Africa's bid to the 2016 Olympic Games in a thrilling 1-0 road victory over Equatorial Guinea, tallied the game-winning goal in the 54th minute of play .
In 2014 Jermaine competed for the South African National Team at the 2015 Cyprus Cup and scored the game-winning goal in her squad's thrilling 1-0 victory against Belgium. The winning strike occurred in the 21st minute of the international competition being held at Tasos Markou, Paralimni Stadium in Ayia Napa, Cyprus.
Jermaine was a member of South Africa's U17 World Cup squad, scoring goals against perennial powerhouse Germany in a World Cup qualifying match held at Dwight Yorke Stadium in Scarborough. She was selected in 2012 to join the South African Senior Women's National Team, which featured the best 22 players in the nation. Jermaine was named South Africa's Young Player of the Year in 2010 by the South African Football Association.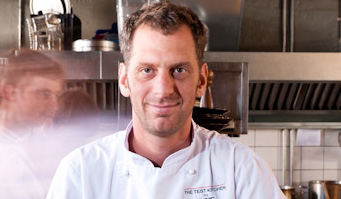 LUKE DALE ROBERTS
With The Test Kitchen, The Shortmarket Club and The Pot Luck Club regularly appearing on the top lists of best restaurants in Cape Town, who is the man behind these culinary delights?
Luke Dale-Roberts was born in Britain and trained at the prestigious Baur Au Lac Hotel in Zurich, Switzerland. Dale-Roberts has cooked at hotels all over the world for the likes of Madonna, Kylie Minogue and Oasis
His first restaurant The Test Kitchen was opened in 2010 and since then has been named one of the best restaurants in Africa and mentioned in World's Top 50 List.  The 21-course tasting menu has been heralded as a taste sensation not to be missed. This is more than a restaurant, this is food entertainment.
The next venture for Dale-Roberts was The Pot Luck Club, opened in 2013 on the top floor of the silo at Woodstock's famous Old Biscuit Mill. The tapas menu is divided into taste categories: bitter, sweet, sour, salty, umami and sweet. The food takes inspiration from all around the globe and adds an Asian touch. This restaurant is worth the visit just for the sweeping, almost 360-degree of the Mother City.
Last but certainly not least for this rising star is The Shortmarket Club. Opened in June 2016 with a central location just off Bree Street. With more conventional, bistro inspired food it's a step away from the Asian-style tapas that we've seen before from Dale-Roberts. This is the only restaurant of the three to offer breakfast, and what a way to start the day! With breakfast dishes such as hot-smoked trout with miso butter and poached eggs, we are waking up early for this one