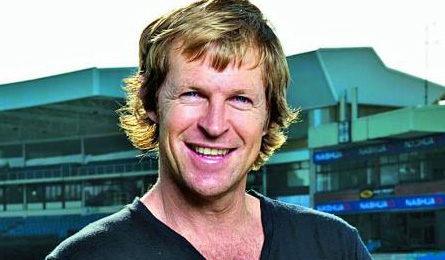 JONTY RHODES
Jonty Rhodes is a former South African Test and International cricketer. He is commonly regarded as one of the greatest fielders of all time. He played for the South African cricket team between 1992 and 2003.
Rhodes was born in Pietermaritzburg, Natal Province, South Africa. Whilst being noted for his quickly running as a right-handed batsman, he was especially noted for his defensive fielding, particularly catching, ground fielding, and throwing from his most common position of backward point. However, he is also known to be a less accurate thrower than Herchelle Gibbs at point when a run-out chance was present.
A report prepared by Cricinfo in late 2005 showed that since the 1999 Cricket World Cup, he had effected the ninth-highest number of run outs in ODI cricket of any fieldsman, with the third-highest success rate.
During his career he also played club cricket for the University of Natal in Pietermaritzburg and first-class cricket for Gloucestershire County Cricket Club, KwaZulu-Natal, Natal and the Dolphins. Rhodes retired from Test cricket in 2000, and from one day cricket in 2003 after an injury during the 2003 Cricket World Cup.
Rhodes also represented South Africa at hockey, and was chosen as part of the 1992 Olympic Games squad to go to Barcelona; however, the squad did not qualify to go to the tournament. He was also called up for trials to play in the 1996 Olympics but was ruled out by a hamstring injury.
Rhodes made his Test début against India in the first Test of the "Friendship Tour" at his home ground in Kingsmead, Durban on 13 November 1992, scoring 41 in the first innings and 26 not out in the second.
Rhodes scored his first Test century during the first Test of a three match series against Sri Lanka at Moratuwa during the 1993–1994 season. Batting on the last day, Rhodes scored 101 not out and along with Clive Eksteen salvaged a draw. South Africa went on to win the series 1–0 by winning the second match and drawing the third.
Rhodes announced his retirement from Test match cricket in 2001 in order to allow him to continue playing until the 2003 Cricket World Cup in South Africa. His last Test match was on 6 August 2000 at the Sinhalese Sports Club Ground, Colombo against Sri Lanka. Rhodes made scores of 21 and 54 in the two innings. Sri Lanka went on to win the match by six wickets.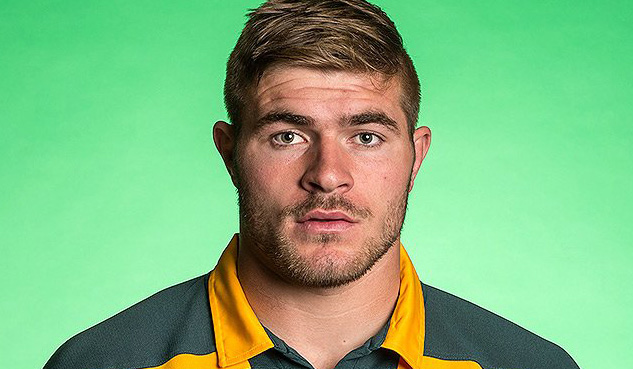 MALCOLM MARX
Malcolm Marx is a South African rugby union player for the Lions in Super Rugby. His regular position is hooker, but he did play as a flanker at youth level for the Golden Lions.
He represented the Golden Lions at several youth tournaments. He played for them at the 2007 Under-13 Craven Week competition and the 2010 Under-16 Grant Khomo Week competition.
He was included in a South Africa Academy side in 2011 and, following the 2012 Under-18 Week competition, he was named in the South Africa Schools side and played against France and England in August 2012.
In 2013, he played for UJ in the 2013 Varsity Cup competition, making eight appearances and scoring four tries.
He was also a regular for the Golden Lions U19 side during the 2013 Under-19 Provincial Championship competition. He made thirteen appearances in total, scoring four tries – one of them in the final against the Blue Bulls U19. He was also named as the Golden Lions U19 Forward of the Year for his displays.
In 2016, Marx was included in a South Africa 'A' squad that played a two-match series against a touring England Saxons team. He came on as a replacement in their first match in Bloemfontein, but ended on the losing side as the visitors ran out 32–24 winners. He then started the second match of the series, a 26–29 defeat to the Saxons in George.
He was first selected for the Springboks for the 2016 Rugby Championship, making three appearances for his country during 2016. Marx made his debut for the Springboks on 17th September 2016, the same date as team mate Francois Louw's 50th test. Marx replaced Springbok captain Adriaan Strauss in the 43rd minute, but had a disappointing debut, with South Africa losing to New Zealand 13-41. Marx earned his first start for the Springboks on 5th November 2016, putting a 51-minute performance into a 31-31 draw against the Barbarians Club, prior to being replaced by Bongi Mbonambi.
After a series of outstanding performances for the Lions, Marx became a regular starter for South Africa in 2017. On 10 June 2017, he was named man of the match for his performance in the first of three tests against the French.. Although his performance against New Zealand in the third round of the 2017 Rugby Championship was highly criticised, Marx performed to a world-class level throughout most of the competition and played in every test of the competition, with South Africa finishing in third place. Marx was not subbed off in either test against Australia during the competition, a rare feat for a hooker, the first test of which a 23-23 draw and the second test against Australia being a 27-27 draw. Marx lost out on winning Man of the Match to Australian back Kurtley Beale on both occasions.
Marx took his international career to new heights on 7th October 2017, with his performance against New Zealand becoming much-talked about and publicised, arguably his best individual performance to date. The performances of Marx, as well as fellow forwards Steven Kitshoff and newly-appointed Springbok Captain Eben Etzebeth allowed South Africa to compete well against the All Blacks, with Marx making four turnovers and many tackles on defence, also setting up replacement loose forward Jean-Luc du Preez for a try and scoring the final try of the game. Marx's try was converted by Lions teammate Elton Jantjies to make the final score a narrow 24-25 loss to the All Blacks. Marx completed his 2017 rugby season by appearing in three of the four Springbok tests during the 2017 end-of-year rugby union internationals.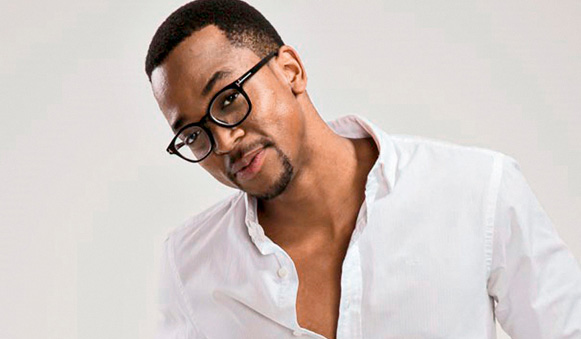 MAPS MAPONYANE
Maps Maponyane is a South African television presenter, actor, fashion designer, speaker, model, creative consultant, voice over artist, philanthropist and business entrepreneur.
Maps was born in Soweto in the Gauteng Province. He is the second son of the South African football player Marks Maponyane. As a 12-year-old boy in the township, he amused spectators by showing his wizardry with the ball in local football competitions, and he was destined to follow through the footsteps of his father. However, as he grew up, Maps discovered his potential at MCMing at the age of 16. He decided to hang up his football boots for good, and took up MCMing as a potential career more seriously. Masego completed his high school career at St John's College in 2008. He studied at Wits University from 2010 until 2012 and completed his BA Degree in Media Studies, French and English (Majors) and International Human Rights.
While taking a year off his schooling in 2009, Maponyane started attending modelling and acting auditions, where he attained his first modelling campaign, while working as an assistant to Lucilla Booyzen, Founder of SA Fashion Week.
Maponye was named GQ's "Best Dressed Man" in 2011 and Cosmopolitan Magazine's "Sexiest South African Man" in 2013.
Maponyane received a supporting role in the second season of South African television drama series, Rockville in 2014.
He was a speaker at the Tomorrow's Leaders Convention in March 2015.
In 2015, Maponyane starred in a lead role on South African spoof comedy series The Real Jozi A-Listers, alongside fellow South African entertainers Da L.E.S, Trevor Gumbi and his best friend Tol-A$$-Mo.
Maponyane is well known for playing a lead role in the South African film Tell Me Sweet Something, alongside good friend and fellow South African actress Nomzamo Mbatha. The film was released in South African theaters on September 4, 2015. The film was removed from major South African cinemas about 5 weeks after release by Ster Kinekor, despite having generated R1 million in the first five days and having done well.
Maps presented E! Entertainment's E! Beyond the Red Carpet: Saftas,which is an after-coverage of the South African Film and Television Awards alongside Bonang Matheba on March 20, 2016.