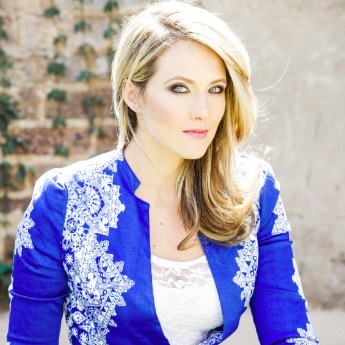 CATHERINE CONSTANTINIDES
Catherine is a prominent South African thought leader, environmentalist focused on climate change, food & water security and waste management, a social entrepreneur, social justice activist and human rights defender.
Constantinides established her first business, SA Fusion, a social enterprise, when she was 16. She was involved in the introduction of the Miss Earth concept to South Africa and was crowned the first Miss Earth South Africa in 2003. She currently serves as director of Miss Earth South Africa. Constantinides is the co-founder of Generation Earth, a youth-led environmental organisation. During 2013 Constantinides was the youngest of a group of 20 emerging Africans named as an Archbishop Tutu Leadership Fellow.
Constantinides has written for the Huffington Post on climate change politics and the situation in the Western Sahara. She is an outspoken critic of the actions of the Moroccan government in the Western Sahara, describing the territory as the "last remaining colony in Africa". She has spoken of the Western Sahara as an "African state in exile, a cause and people forgotten". In May 2016 Constantinides was chosen as one of the Mandela Washington Fellows as part of the Young African Leaders Initiative; an initiative of the United States Department of State.
Constantinides received the South African Young Woman Entrepreneur Award for Women Empowerment in 2012. She has also been honoured with the South African Youth Entrepreneur award at the South African Premier Business Awards. In 2015 Constantinides was included in the 21 Icons project, a project that celebrates "human achievement through photography, film and narratives". The Mail & Guardian listed Constantinides as one of its 200 Young South Africans in 2014.
Constantinides was recognised with the Ubuntu Youth Diplomacy Award in 2016 at an event hosted by the Minister of International Relations and Cooperation, Maite Nkoana-Mashabane. Receiving the award Constantinides stated "I am proud to fly our flag high and will continue to be an ambassador for our country and the causes close to my heart, as we build the South Africa and Africa we believe is possible".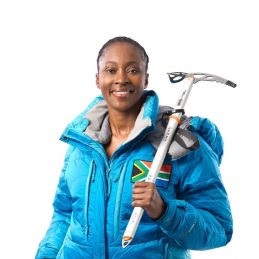 SARAY KHUMALO
Saray is a Zambia-born South African explorer and mountaineer. In May 2019, she became the first black African woman to reach the summit of Mount Everest. With a Rwandan bloodline but now resident in South Africa, Khumalo was born in Zambia. She works as an e-commerce business executive. She is a mother of two children
Prior to her 2019 success, she had attempted several times to conquer Mount Everest. Her first attempt was in 2014, when she was halted after an avalanche that killed 16 guides on the slope. She tried again in 2015, but was halted again by an earthquake in Nepal. Her final try, before her success, was in 2017 where she was forced to turn back because of the terrible weather. She is also known to have summited five mountains, including Mount Kilimanjaro in Tanzania, Aconcagua in Argentina and Mount Elbrus in Russia.
Khumalo is a Nelson Mandela Libraries ambassador who raises funds through her mountain climbing to support several projects including the Lunch Box Fund and the Mandela Library project in Thembisa, Johannesburg.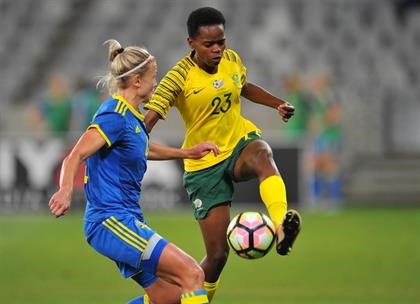 HILDA MAGAIA
Banyana Banyana striker Hildah Magaia has urged local stars in the PSL to go to school and study so they don't end up destitute through bad luck.
Magaia is on cloud nine after recently securing her diploma in Officiating and Coaching Science at Tshwane University of Technology.
The 25-year-old striker is currently enrolled for an advanced diploma in the same course at TUT and is ready to go as far as doing a Masters Degree to boost her qualifications.
Magaia has attributed her success in both her football career and her studies to hard work and discipline.