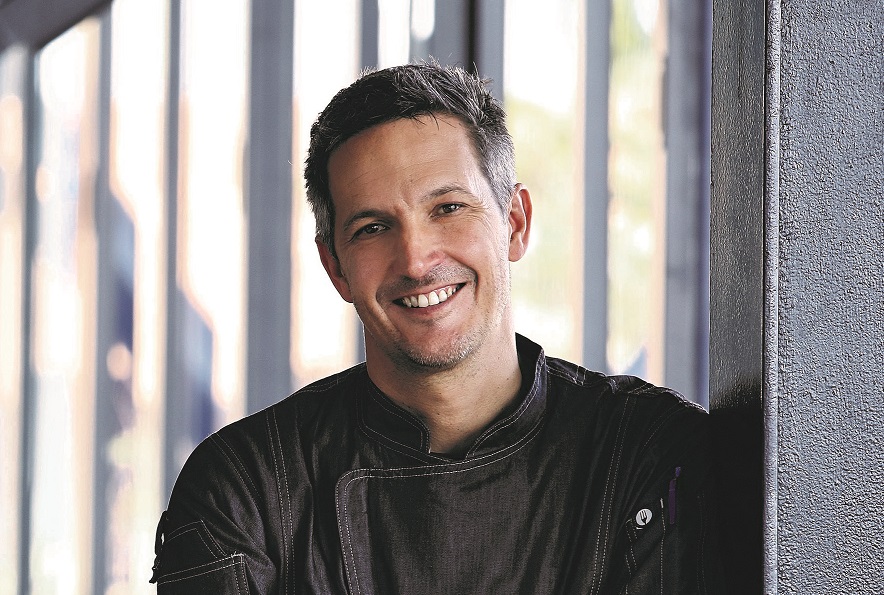 DAVID HIGGS
"I love the taste and texture of food, but we also eat with our eyes and so everything I do starts here."
From humble beginnings cooking breakfast in a small hotel, to one of South Africa's most awarded and best-known chefs, David Higgs, is known for his love of food, art, wine and a good braai. He is also one of the founding partners of Marble and Saint Restaurants.
With an almost 20-year cooking career, David is passionate about local cooking, especially when it is on an open flame. His early inspiration came from his family's kitchen – Sunday roasts and homemade koeksisters – and the time-worn ritual of gathering around a fire.   His career started in 1990 in Cape Town, and since then has seen him run his cooking school, The Higgs School of Good Cooking, and start his own catering company, Extreem Kwizeen. He has also, on a number of occasions, cooked for former President Nelson Mandela. In 2007, together with Jean Engelbrecht, he established a fine-dining restaurant in the old cellar on the historical wine estate, Rust en Vrede, outside Stellenbosch. After four years, and countless awards, David made the move to Johannesburg to join the Radisson Blu Gautrain and later the Saxon Hotel where he established the award-winning fine-dining restaurant, Five Hundred.
In 2016, he opened Marble alongside his business partner Gary Kyriacou. Here, David gets to display his love of more than just meat, but rather all types of ingredients cooked on coals – including fish, poultry, vegetables and breads. Marble is now the leading live-fire restaurant experience in Joburg. In 2018, the team opened their second restaurant, Saint which has quickly become the go-to pizza and Champagne destination for Sandton's trendy, up-and-coming business crowd.   David was also a judge on the hit local reality show My Kitchen Rules SA on M-Net, alongside well known musician J'Something, for two highly acclaimed seasons.  In 2018, David released his first book Mile 8: A Book About Cooking. With over 90 dishes and 150 recipes influenced by the journey of Higgs' career, Mile 8 is a culinary adventure bringing together the unique and interesting flavours of Southern Africa.
David is passionate about developing young talent in the hospitality industry and educating the youth on healthy eating. He is one of the founders of Food Cycle, a programme which aims to educate South African children about the benefits of short- and long-term healthy eating habits and proper nutrition. The programme also serves to introduce these youngsters to the hospitality industry.
JASON GOLIATH
Jason Goliath is an actor, comedian, radio and TV presenter and a businessman. The funny man continues to make audiences laugh, even when he is cast in a supporting role.
Growing up, Jason learnt an impressive work ethic from his mother and her long career. He started working as a marketing manager, an insurance broker and went into sales, before realizing that comedy is what he actually wanted to do.
Jason gained nationwide fame as the loveable Gatiep, in a recurring role for the sitcom Ses'Top La.
Even with his comedic TV roles, its clear comedy is his first love, and one he keeps on returning to. Even though it all started out as a hobby for Jason, often called the Strangely Sexy Fat Guy.
Performing at corporate gigs and appearances at comedy clubs, he was one of the featured acts at the 2012 Comedy Central Presents… Live @ Parker's.
Diversifying his career and establishing himself as a true entertainer, Jason was one of the celebrity contestants in the 2015 edition of the hit reality TV competition show Strictly Come Dancing. Alongside his partner, professional dancer Samantha Bele Viana, Jason impressed with his dance moves, but not enough to win the title at the end of the season.
This was a big year for Jason, as he received an exclusive invitation to represent the whole continent of Africa, at the annual Just For Laughs Festival, which takes place in Canada.
He has also performed at other leading comedic shows, including Blacks Only, Kings and Queens of Comedy, Johannesburg International Comedy Festival, the Comedy Central International Comedy Festival and the Montreux Comedy Festival in Switzerland.
His stint as a reality TV dancer was followed up with presenting duties, as he hosted the late-night talk show Larger Than Life, where he got to hang out with celebrity pals, old and new, and got to ask them some very tough questions, offering the live studio audience plenty of laughs.
Jason teamed up with three other Goliath comedians Donovan, Nicholas and Kate. Together, the comedic quattro launched their own company Goliath and Goliath, which also saw them open their own comedy club, The Goliath Comedy Club, which also gave up and coming comedians the perfect platform to fine tune their act. Donovan is the only one of the comedians not related to the other, Jason and Kate are siblings, and Nicholas their cousin.
Jason, who works super-hard with comedy, presenting, doing TV ads and hosting corporate gigs, has been rewarded. He won the Best Newcomer award in 2012 and in 2013, 2014 and 2015 won the Breakthrough Act at the Comics Choice Awards. In 2019, Jason also made big moves on radio and TV. He returned to radio as a co-host of the breakfast show on Kaya FM, alongside David O'Sullivan and Thabiso Sikwane. He also lent his funny bone as a team captain alongside TV personality Ayanda Thabethe, on the game show Celebrity Game Night, hosted by radio presenter Anele Mdoda. It was also announced that Jason was cast in the BET comedy show Black Tax, alongside Isidingo's Jo-Anne Reyneke and Mandla Jwara, with the show expected to premier to audiences across Africa in January 2020.
In 2019, Jason and his bride, a media publicist Sian Bailey, made headlines with their off-beat wedding attire, when they said their I Do's in front of close friends and family.
Dressed in jeans, sneakers and matching T-shirts with bride and groom printed on it, the couple jetted off into the sunset for a second ceremony in the Maldives. White sandy beaches, a beautiful wedding gown and each other, Jason and Sian vowed their eternal love to each other in a second ceremony and honeymoon. The couple, who've been dating for several years, got engaged in 2017, when Jason went down on one knee and popped the question. And the proposal itself was something Jason worked on for a while, wanting to make it special for both of them.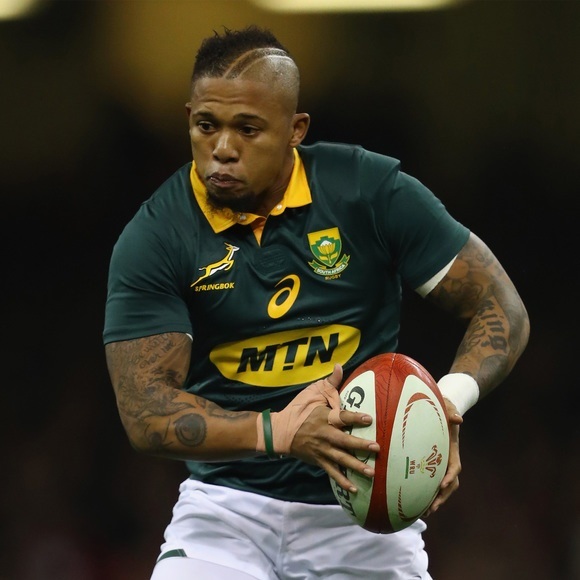 ELTON JANTJIES
Elton is a South African professional rugby union player for the South Africa national team, the Lions in Super Rugby and the Golden Lions in the Currie Cup.
Jantjies made his professional debut with the Lions during the 2011 Super Rugby season, and his International debut with the Springboks during the inaugural Rugby Championship. He has received several significant sporting awards, including the SARU Young Player of the Year award (2010), and the SA U20 Player of the Year award (2010).
Jantjies gained a reputation as being a clutch performer after he successfully converted every goal attempt in the 2011 Currie Cup final, a game in which the Golden Lions defeated the Sharks 42-16. This performance earned him the Man of the Match award.
Elton joined the Stormers for the 2013 season on a loan deal after the Lions were relegated from the South African conference. His stint with the Stormers was largely unsuccessful compared to the previous season with the Lions where he had an 86% goal-kicking success rate.  He returned to the Lions who had won promotion back to the Super Rugby competition.
Jantjies reached the finals with the Lions in both 2016 where the Lions lost to the Hurricanes in Wellington and 2017 where they lost to the Crusaders at their home crowd in Johannesburg, playing a huge part in getting them there. Jantjies was also the highest points scorer in the competition in 2017, scoring 203 points that season.
Jantjies made his international rugby test debut for the South Africa national rugby union team during the inaugural Rugby Championship against Australia on 29 September 2012, at Loftus Versfeld, however his debut for the Springboks came in a non-test, uncapped game against the Barbarians in the 2010 end of year tests.
Jantjies was named in South Africa's squad for the 2019 Rugby World Cup.  South Africa went on to win the tournament, defeating England in the final.
He is the older brother of fly-half Tony Jantjies.  Weeks before he joined the Stormers, his father Thomas Jantjies died in hospital after being stung by a bee. In previous interviews, Jantjies had described his father as his mentor, and also his kicking coach.